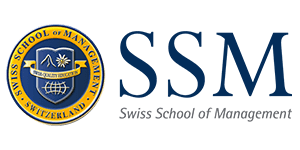 The Swiss School of Management (SSM) is a globally accredited (USA and Europe) private institute of higher education focused on cutting edge offerings allowing our students to deepen their knowledge in the functional areas of business.
Swiss School of Management offers innovative and quality certified programmes that provide not only a truly practical management education but also combine the latest in technology with the most forward-thinking business, educational and leadership ideas.
Our focus is to give students a real-life experience in the class-room. At SSM you'll simulate the real challenges faced by business leaders as you're called on to analyze data, develop alternatives, make and defend your recommendations and execute. We succeed in this goal by not only using case studies but also having extraordinary international faculty members, that enrich our courses with real-life experience, preparing you for the real-world better than any lecture-based program ever could.
Our programs contemplate company visits, guest lecturers and speakers from the industry or the field of study. Each course includes the interlinking of a leadership, ethical and entrepreneurial component that will allow candidates to turn concepts into decisions, knowledge into action, and ideas into change, providing the opportunity to apply what you have learned in class to real life. In each class, we will open your mind to how the world really works, we will contribute to your professional appearance and behavior.
Our comprehensive curriculum is further supported by emphasizing practical skills such as presentation and public speaking, cultural sensitivity and teamwork. Upon graduation with our internationally recognized degrees our students; command a broad scope of international management concepts, think strategically, understand the art of motivation and have the ability to undertake independent business analysis and frame solutions to complex business and life problems.