Doctor of Business Administration
The programme is aimed at developing leadership in the field of business administration.
It primarily focusses on theories and methodologies related to research and practice, breadth and depth of study, processes as well as best-practices in business management environments. Students of this programme will develop business acumens while at the same time, enhance their overall management capabilities.
This programme seeks to admit business leaders, senior management and rising managers who are motivated to go through formal doctoral training to solve the business problems of their organizations. Experienced practitioners could also choose to make a switch to academia or take up affiliate faculty positions at academic institutions.
Programme Highlights
>>> Internationally benched marked, approved by the Ministry of Education and accredited by the Malaysian Qualifications Agency.
>>> Supported with research workshops, research colloquia and research clinics.
>>> Curriculum that applies cutting-edge research to practical problems in business and management.
>>> Modular type of delivery for the taught courses.
>>> Access to the physical and digital library comprising of around 190,000 e-books, 95,000 e-journals, and 2.4 million e-theses titles accessible anywhere anytime.
>>> Viva Voce for international students can be done on-campus or off-campus via video conferencing.

Mode of Study: Part-Time (Fully Online/Blended Learning)
Duration: 3-4 years (9-12 semesters
Programme Structure
Year 1
Semester 1: Research Methods for Business, Marketing & Global Business, Business Strategy & Policy
Semester 2:  International Business, Accounting & Finance Decision
Semester 3: New Business Venture,
Managerial Leadership in Asia
Total Credits: 28 credits
Year 2
Research Proposal and Proposal defence
Total Credits: 10 credits
Year 3
Data Collection, Research Colloquium & Dissertation Writing, Viva Voce
Total Credits: 42 credits
Overall 3 Years Total Credits: 80 credits
Why APEL.Q?
>>> To recognize the value of prior learning acquired through formal, non-formal or informal sources, as well as to promote the culture of lifelong learning.
>>> To encourage adults with vast related working experi­ ence to earn a relevant degree award through a different evaluation mechanism without subjecting themselves to the traditional pathway
>>> To potentially reduce the effort, time and cost of com­ pleting a study programme through the traditional way.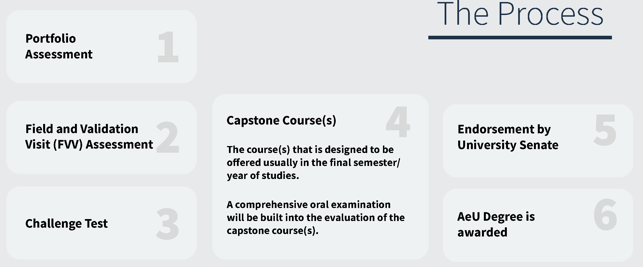 **NOTES
Assessment must be taken in sequence and the learner has to pass each stage before proceeding to the next stage of assessment. THREE (3) attempts will be given to redeem the failed status in the assessment mode.