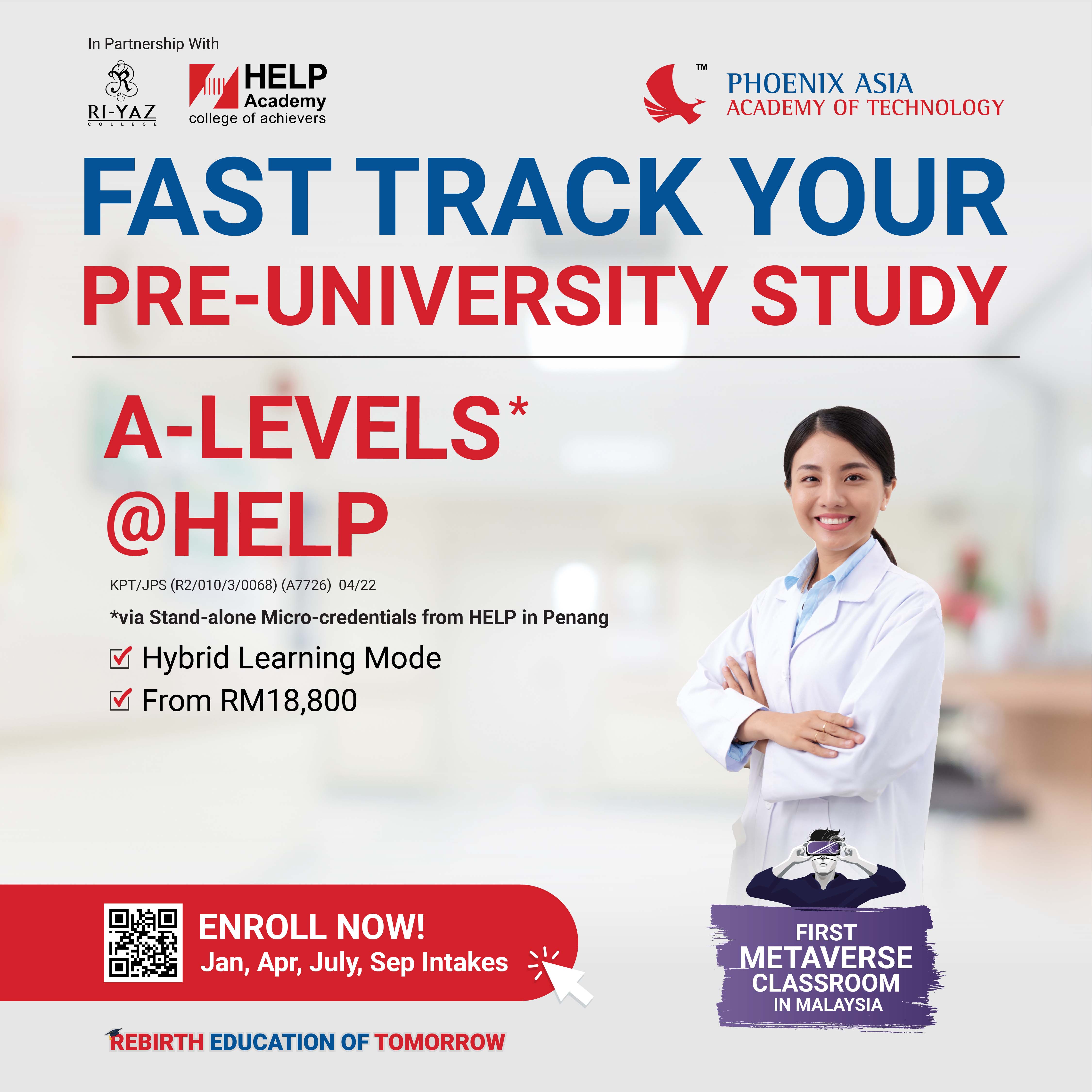 Why study HELP A-Levels in Penang?
Hybrid Learning Mode
Students will be studying under an educational model in which students spend at least half of their time learning online and the rest of their time in physical classrooms.
Great Flexibility
HELP is the first and only centre in the country that conducts both Cambridge Assessment International Education and Edexcel International Advanced Levels systems.
Guaranteed Pathway To Top Universities
With a stellar record of 100% passing rate yearly, our Achievers are globally recognised and have many options in entering top universities.
Centre of Excellence
The Department of A-Levels was the first centre to be awarded the Centre of Excellence by Edexcel International UK for the exceptional delivery of the London GCE A-Levels in recognition of its superior facilities.
Unique Pastoral Care
We offer Pre-recorded courses, live study sessions, and online learning in an interactive learning environment with the 5-star QS World University Rankings to ensure that every student keeps up with the teaching.
WHAT ARE A-LEVELS?
A-Levels, or 'Advanced Levels', are traditionally two-year programmes that academic students study after finishing their GCSEs. A-Levels offer a variety of subject-specific qualifications ranging from Physics and English Literature, to Business Studies and Sociology. Students tend to choose three or four subjects, and the grade they achieve in each subject counts towards their total UCAS points required to secure their place in universities.
THE BENEFITS OF AN A-LEVELS PROGRAMME
Apply to the university of your dreams
A-Levels are a great choice for anyone who wishes to attend university, you can go to university in almost any country you desire. A-Levels can make that dream a reality… the world really is your oyster!
Channel your passion
The beauty of A-Levels is that you can choose to study subject-specific qualifications. You would be able to focus on what you are good at and passionate about. Studying a subject that you are naturally talented in makes the study process more enjoyable and improves your chances of success on results day.
Improve your job prospects
Whether you go to university or not, an A-Level qualifications will impress future employers and help you stand out.
Phoenix Asia Rebirth Campus
📍2 & 4 Gat Lebuh Chulia, Georgetown, 10300 Pulau Pinang
– From RM18,800
– Intake: Jan / Apr / July / Sep
*via Stand-alone Micro-Credentials & Hybrid Learning Mode
Drop Us A Message